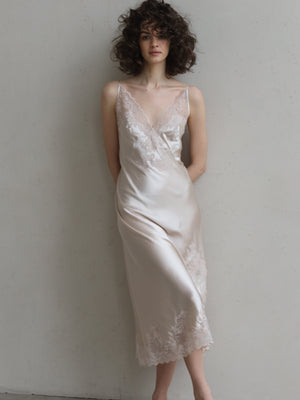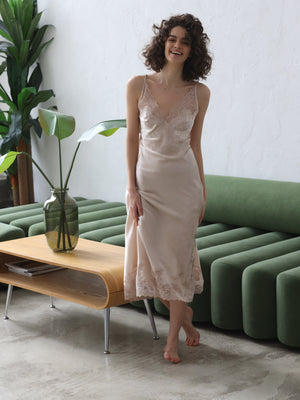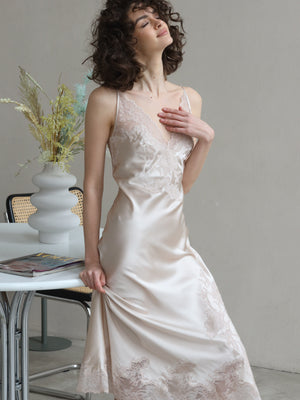 Adriana silk midi night dress
Art: EX-Nightdress-Midi-Adriana-S
Composition and care
100% silk lace 100% nylon
Handwash
Attention! Silk is a 100% natural biofiber released by silkworm caterpillars during cocoon rolling. To preserve the unique properties, durability and exceptional beauty of natural fibers, you must follow the basic rules for the care of silk products.
· Silk items can be washed by hand or in a machine in the "Silk" or "Delicate" mode at a temperature of 30 ° C, using special liquid detergents, ready-made conditioners, gels designed for silk.
· Hand washing silk garments from the side is an easy game: in one motion we immerse the silk in not very soapy water, and after a few seconds we take it out, repeat this several times in a row.
· Sometimes silk will lightly stain the water after washing. There is no cause for alarm. To prevent molting, you can add 9% acetic to cold water (at the rate of 2 tablespoons of vinegar per 10 liters of water) and rinse. This will remove any alkaline residues that are harmful to the fabric and set the paint.
· Rinsing a silk item is also extremely delicate: we put the item in cold water, shake it slightly and take it out of the water.
· Do not use fabric softeners.
· Never wring silk or tumble dry. Squeeze the item slightly and hang up, the remaining water will drain off.
· Do not dry silk in the sun.
· Iron the silk on the wrong side in the "silk" setting using steam.
Product description
- Limited edition
- Color Light Beige (
P
ink Tint)
- Natural silk
- Lace inserts and trim
- V-neckline along the neckline
- Adjustable straps
- Midi length

Please note: Limited edition items have a longer lead time due to the fact that they are not in stock and can be made to your order and, in some cases, to your specifications.
The height of the model is 168 cm on the photo
Dimensional grids
Internat-l                   Bust                            Waist                             Hips
        XS       31,5-33ʺ/80-84cm         24,4-26ʺ/62-66cm       34,6-36,2ʺ/88-92cm
         S        33-34,6ʺ/84-88cm         26-27,6ʺ/66-70cm      36,2-37,8ʺ/92-96cm
         M      34,6-36,2ʺ/88-92cm       27,6-29ʺ/70-74cm      37,8-39,4ʺ/96-100cm
         L        36,2-38,6ʺ/92-98cm       29-31,5ʺ/74-80cm      39,4-41,7ʺ/100-106cm
         XL      38,6-40,9ʺ/98-104cm    31,5-33,9ʺ/80-86cm    41,7-44ʺ/106-112cm